We've all heard of chatbots, also known as digital assistants. These have been around for quite some time, helping with customer queries, answering questions, collecting data, and automating tasks to make life easier for businesses. Nothing new, really.
Just recently, these AI-automated software robots are becoming much smarter with new technologies as they continue improving candidate experiences. Recruiting chatbots are constantly gaining better capabilities with job recruiting tasks, such as pre-screening candidates, answering questions related to the open position, scheduling interviews, among others.
Nowadays, the use of recruiting chatbots has significantly increased, especially amid the COVID-19 pandemic. It's predicted that the number of users will increase even further in the following years.
One very valuable feature chatbots have is that they can recruit people 24/7. Compared to humans, AI software will never get tired. It will be available no matter what time, connecting job seekers with open positions that match their experience, interests, and skills accordingly. This is a massive plus for global companies that hire international candidates because they can answer people's questions regardless of their different geographic locations and time zone.
There's a lot more to learn about recruiting chatbots and how you can take advantage of the power these robots have to improve your company's candidate experience further.
What is Recruiting Chatbots?
Did you know that the first chatbot ever was created in 1966? The chatbot's name was Eliza!
It's not a known fact because it would take decades for the chatbot technology to develop adequately enough to achieve widespread use. It wasn't until 2016, 50 years later, that the famous social media network Facebook started allowing software developers to add chatbots on Messenger. From there, big brands and companies began creating digital assistants of their own. Software vendors came in with specialized technology, called "conversational artificial intelligence."
But what made AI and chatbots so famous so suddenly? It came from the rapid advancement of machine learning technology, with AI is now "learning" from experiences and becoming more human-like. As a result, the technology became more valuable to companies.
In a Deloitte report released in March 2020, nearing the beginning of the global COVID-19 pandemic, 63% of surveyed company leaders saw Artificial Intelligence as very important to business success. That number is expected to grow to at least 81% in the next two years.
Chatbots are also heading into the human resources world. In 2018, 58% of job seekers surveyed in a report from SHRM said they were comfortable interacting with chatbots when answering questions in the application and interview processes.
Recruitment chatbots, also called conversational agents, are software applications that mimic human conversations throughout the recruitment process. Candidates would engage with these chatbots on career websites, asking questions or choosing specific options to accomplish tasks.
The Benefits of Recruiting Chatbots
Suppose your organization isn't using chatbots for recruiting yet. In that case, you should start seriously considering it if you want to remain competitive with other brands in the industry while improving the candidate experience. When you integrate digital assistants into the talent acquisition strategy, you can reap the following benefits:
Save the company's time and money
Bring in unique talents and candidates
Deliver insights on candidate behavior
Improve the overall hiring experiences of job seekers and recruiters
Where are Recruiting Chatbots from?
Many people would assume that they can only find chatbots on websites. However, chatbots can also text with candidates. You'll be able to find chatbots in:
Collaborative tools like Slack
Facebook Messenger
WhatsApp and other messaging apps
Facebook and other social media networks
ATS or other software
To productively use chatbots, you have to determine where your target candidates usually spend most of their time online and where your chatbots should be. It would be best to keep in mind your target job seekers' preferences.
For those who already have chatbots, conduct test runs on websites text messages, among other platforms. Compare the response rates, and you'll know where to focus your efforts.
You can also utilize third-party tools, like Google Analytics, to discover how job applicants and candidates found your career website and what they do when there. Did they come from Messenger or job forum boards? Do job seekers click on "Apply" after checking the job description or "Contact Us" to inquire about the job details before sending their resume?
For a more straightforward approach, you can always ask the candidates. Use the chatbot to ask job seekers whom you would like to keep in touch with and what communications are most convenient for them. It can be through email, text, WhatsApp, Messenger, or what you can offer.
If you have no recruiting chatbots yet but want to implement them, then ask the questions mentioned in the job application.
You can also take advantage of industry statistics. For instance, a whopping 75% of millennials prefer texting over talking if they were provided only one choice. Further research shows that baby boomers, millennials, and Gen Zers conduct most of their job search activity from their mobile devices. Moreover, Gen Zers spend much more time texting compared to older generations.
Knowing those statistics can give you more of an idea of what communication channel to use and where to install chatbots based on your target audience.
How to Use Recruiting Chatbots Successfully
There are many effective ways to get the most out of recruiting chatbots, such as:
Answer Frequently Asked Questions
About 38% of consumers want to talk with humans when they engage with a brand, while 69% prefer using chatbots as they deliver answers to simple questions quickly. Just like in customer service, job seekers prefer chatbots to receive basic information within seconds.
What are candidates' most frequently asked questions, though? The most common ones recruiting chatbots are asked involved the job application process, information on a job position, salaries, and application status.
But since the pandemic, new questions popped up regarding the company's COVID-19 preparedness, remote work policies, and paid personal or medical leave benefits.
Here are other specific questions you may want to train to recruit chatbots to have:
Who's a good fit for the (exact job position here)?
What are my prospects for career development and advancement?
How many breaks will I get per shift?
Where is your office located, and what are its amenities?
What do I need to bring to the job interview?
What is the company culture like?
Automate Processes
Recruiting chatbots can quickly pre-screen job candidates based on their applications, resumes, written materials, and pre-recorded video interviews. That way, the recruiting staff will be able to focus more on functions that require humans, such as following up with qualified applicants via live interviews in-person or on a video call.
Pre-screening is only one of the many routine recruitment processes that chatbots can perform. There are other automation processes recruiting chatbots can work on as well, such as skills assessments, routing requisitions, or background checks for approval.
Schedule Interviews
Companies can also add interview scheduling to the process automation list. Organizations must make the most out of their recruitment and HR teams, giving them more time to work on sourcing and developing positive relationships with in-demand talent.
Represent the Brand
It would be best if you didn't overlook the fantastic opportunity recruiting chatbots offer to improve employer branding. Brand reputation is crucial to job seekers, with many peoples ranking company branding as a vital factor when they decide to apply for a job in the said company.
Furthermore, recruiting chatbots can help with the company's bottom line. Stronger employer branding can also result in decreased recruitment expenses!
Engage with Job Seekers
Potential candidates may lose interest if organizations they applied to don't contact them for an update as soon as possible. In a 2020 study, over 50% of job hunters surveyed say their biggest frustration is a lack of response from recruiters or employers.
According to data from iCIMS, 76% of people surveyed say that no update from employers after submitting a job application is more frustrating compared to being ghosted after the first date.
That's where recruiting chatbots to come along, which can do even more than just initiate engagement through welcoming new site visitors, asking how to help, and answering frequently asked questions. When receiving the job seeker's contact information and other relevant data, recruiting chatbots can keep candidates engaged through the following:
Thanking job seekers for applying
Reminding about the job interviews
Keeping job seekers updated regarding their application statuses
Informing them of any future job openings
Source Candidates
Chatbots help in sourcing job candidates in various ways:
Engage with passive job hunters – You can use recruiting chatbots as the "soft" method of approaching candidates who aren't actively seeking jobs. Job hunters might be more willing to connect with chatbots than human recruiters as it involves less commitment. Furthermore, it saves the staff time connecting with job seekers who aren't as likely to convert.
Help candidates apply – While long applications are beneficial, candidates may lose interest, so it's best to evaluate what you should know upfront and what can be asked later on. That's why many companies are allowing job hunters to apply via text. Recruiting chatbots can guide candidates through a quick and easy application.
Facilitate virtual job fairs – Amid the pandemic, physical job fairs are challenging to pull off. Recruiting chatbots can help with communications and facilitating virtual job fairs! However, if preferred, recruiters can also opt to manage the conversations themselves.
Open Doors to More Diverse Candidates
Even way back in 2015, McKinsey shared a report that companies who are part of the top quartile for gender or ethnic and racial diversity are most likely to experience financial returns above the national industry medians. Today, companies strive for diversity across borders, age, race, and gender.
According to LinkedIn in a 2020 report, 77% of talent professionals agreed diversity would become an essential factor in recruiting. Furthermore, researchers predict that the increased remote work opportunities because of the pandemic can help with geographic diversity.
Numerous recruitment chatbots are multilingual and can help avoid any unconscious bias throughout the candidate pre-screening process.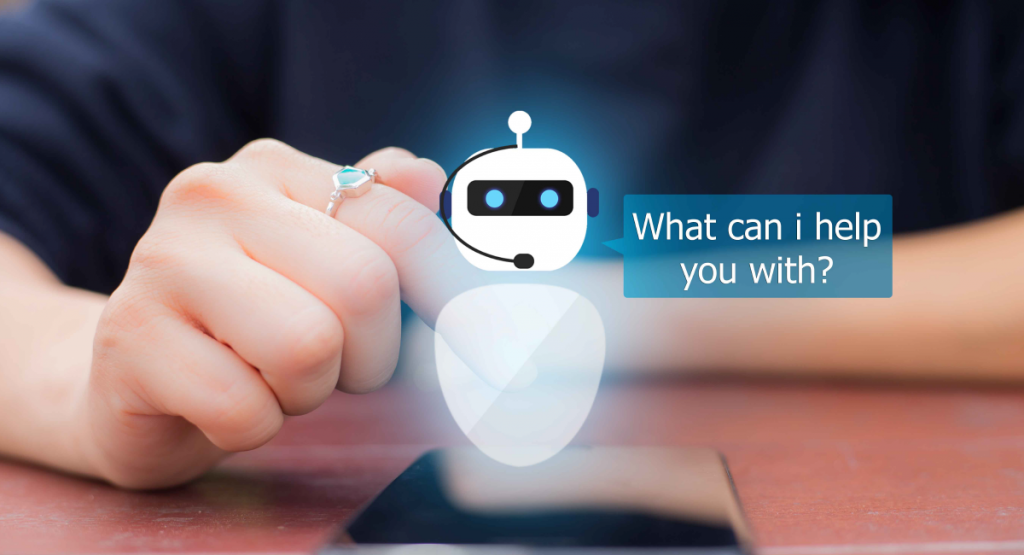 Automated Conversation Basics
We understand that not everyone is an expert in AI and knows how it works. It's pretty overwhelming! Here are a few fun facts to know about recruiting chatbots:
Some chatbots allow candidates to ask questions from a list, receiving pre-programmed answers. AI-powered recruiting chatbots will have job seekers communicate fluidly as if they were talking to a real person! Chatbots will interpret the text, coming back with logical responses, whether it's an answer to the question or links to helpful resources.
Website chatbots may perform on an opt-in basis or not. Alternatively, recruitment chatbots can wait before engaging with candidates until candidates will click on the chatbot widget to begin the conversation.
Companies can use AI to analyze job hunters' motivations and frustrations. Some recruiting chatbots can be programmed to encourage candidates to apply for jobs they just checked out, which allows you to evaluate the effectiveness of job descriptions and how to adjust recruitment strategies.
You can engage candidates with recruiting chatbots through text or other messaging applications. Candidates can text the advertised keywords into the shortcode, opening the chatbot to ask and collect relevant candidate information through text.
A Real-World Success Story
Let's take a look at RPM, the largest Domino Delivery franchise in the USA, operating over 180 stores in five states, with an excellent real-world success story. RPM customized their recruitment chatbot, Dottie, to perform as their brand extension.
Dottie is courteous, cheerful, competent, and an expert on pizza trivia. Its applicant tracker was created to mirror Domini's pizza tracker to display order statuses in real-time.
Furthermore, Dottie cooperates with customized screening questions about job hunters' ages and driving statuses, among other tasks. Within Dottie's first year, it managed to send over 250,000 text messages, knowing that most of RPM's target candidates are from the younger generations who are always with their mobile devices.
With the help of Dottie, RPM experienced a 66% increase in applicants, along with a 50% reduced application time and 80% reduced time to hire. That doesn't only help with overall candidate experience, but it saves so much time and money for RPM in the long run.
Wrapping It Up
Recruitment chatbots will continue to work their way up the human resource ladder for great reason! With all the benefits and ways to use it, it's time you begin taking advantage of what these technologies have to offer.
Hopefully, you discovered a lot about recruiting chatbots and why they are essential to any business. If you want to learn more about HR technologies and trends, check out our other blog posts and stay updated with the newest information recruiters and hiring managers can learn from.